Our Roots
"Nuherbs® is a third generation family business founded by women and grown from a passion to share Traditional Chinese Medicine with the world."
Our Founder
My grandmother Doctor Bing Yin Lee, contracted a severe case of typhoid fever in Shanghai as a teenager. Western-trained doctors pronounced her incurable. Her father sought out the most renowned TCM doctor in the area, hoping for an alternative. He vowed to Guan Yin, the Goddess of Mercy, that if his daughter's life was saved, he would send her to study Traditional Chinese Medicine to serve the world. Under the care of TCM Doctor Ding Jie Wan, she recuperated from the illness. As promised, her father sent her to study at the Chinese Medical Institute of Shanghai. In 1935, she became one of the first female graduates in medicine.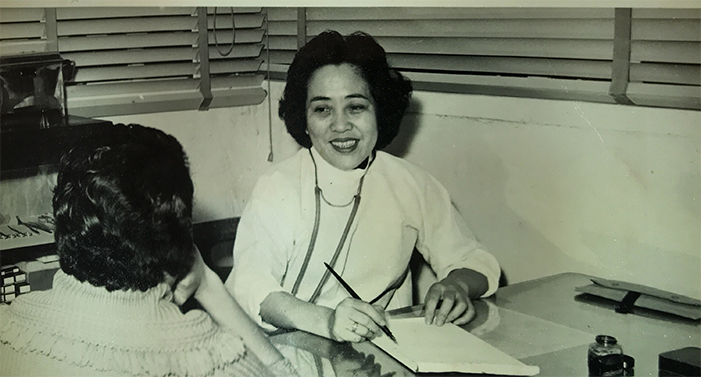 In 1974, Doctor Bing Yin Lee brought her decades of valuable clinical experience to the United States, where she opened a practice in San Francisco's Chinatown. Highly motivated, she completed her PhD at the San Francisco College of Acupuncture in 1984, and became one of the first licensed acupuncturists in California.
"It is my family's honor to carry on the passion my grandmother instilled in us for Chinese herbs"
Wilson Lau - Nuherbs Co.
To assure a steady supply of quality Chinese herbs, her daughter, Pat Kwan, together with her husband, Henry Lau (my parents), opened a Chinese herbal pharmacy in Oakland's Chinatown. Draline Tong quickly became known for its reliability and the quality and traceability of its products. Today, it is known as Nuherbs.
Nuherbs is now under the third generation of family stewardship. Over the years, with the support of our partners, we have grown into a leading importer of Chinese herbs and herbal supplements. In spite of this growth, we have never forgotten our roots. By thinking as healers first, and business people second, we have maintained the trust of our clients for two decades. We know that every decision we make affects the health, safety, and trust of our customers and in turn their customers; we honor this through our commitment to offer only the finest products available, using our "Ai Cao Yao" system.
Doctor Bing Yin Lee continued to teach and publish on topics of Traditional Chinese Medicine even after she retired at age 94. Read my interview with her to learn more about her spirit. She passed away peacefully in March 2009, but her values live on, within us, today.
It is my family's honor to carry on my grandmother's dedication to Chinese herbs. I am deeply committed to bringing you the finest traditions, powered by the best innovations, grounded in a legacy of passion and integrity, and sustainability.
Vice President of Nuherbs