Building a Strong Supply Chain in 2021
2020...what a ride. As we start 2021 with more optimism, I wanted to congratulate you for navigating all the challenges, uncertainty, highs, and lows that this year has brought in your life and your business. And I also wanted to thank you for your continued support of our company.
This year, we're going to be providing you with more resources designed to help your business better navigate new health and wellness trends, the demands of your customers and help your company build a more stable supply chain.
In the next few months, you'll find more articles, videos, and webinars designed to help you prepare for what's coming next. To kick that off, I wanted to provide some insights on what's happening overseas supply chains and provide some insights from our fall and winter harvests.
Updates From the Fields: Fall & Winter Harvest
It's no secret that COVID-19 hit China and the countries that touch it hard. When the pandemic first hit, the disruption in logistics hit farmers hard and temporarily suppressed herb sales. But by May, herb sales got back on track and many farmers started receiving requests to increase their yields as the demand herbs that supported immune functions Dang Gui (angelica sinensis), Huang Qi (astragalus root), and Dang Shen (codonopsis pilosula) in TCM rose drastically.
We were really fortunate that many of the growing projects we started several years back (due to our desire to help build the best supply chains in the world), we're able to yield large harvests despite all of the environmental and global challenges we faced in 2020. For example, our organic astragalus growing area in Inner Mongolia yielded 40-50 tons this year; despite the increased market demand, we are still able to meet all of our partners' increased need for it as it's a key ingredient related to TCM and herbal medicine.
Chinese Herb Pricing Increases Due to the Impact of COVID-19
Because of the changes happening in local communities, I've been seeing prices trending upwards at the farm level in China and throughout the supply chain. Most of the price increases are COVID-related versus a truly poor harvest.
There are also environmental factors that have driven costs up. The massive flooding that happened this August led to large amounts of crops being lost. Southwest China was hit hard by heavy rains and caused by locally grown herbs like star anise to see dramatic price increases. Flooding in East and Northeast China also impacted crop harvests and local food security, this however had a limited impact on herbal harvests in those areas.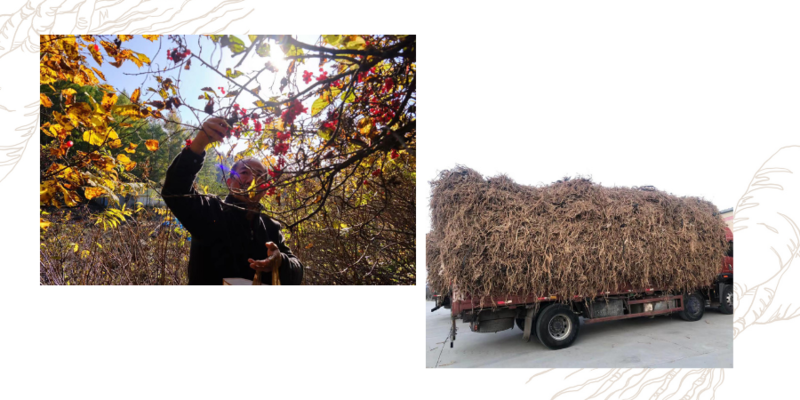 The real drivers of the price increases for Chinese herbs are similar to what I am seeing in the global food supply chain. Because of it, Nuherbs is experiencing:
Increases in the cost of doing business due to COVID safety measures;
Increases in labor costs;
Increases in logistics costs;
Increases in regulatory compliance costs;
Increases in demand for herbs that support immune health;
Increases in demand for Chinese herbs, in particular, the ones related to immunity.
To better break out the list above, here's a bit more insight on what's happening:
Government Regulation & Labor Shortages
The Chinese government has implemented numerous COVID measures to help keep people locally and globally safe. Everything from increased sanitation measures to multiple temperature checks each day for people. Although none of these items may move the needle by itself, cumulatively it adds up and decreases efficiency in many areas of daily work and life.
As China rebounds more strongly than most countries, labor costs are increasing because of surging demand for workers while facing a shrinking labor force. The country is on the wrong side of population growth with its aging workforce, there aren't enough able-bodied people to fill open positions. And unlike other countries, the labor shortage is further hindered by the one-child policy.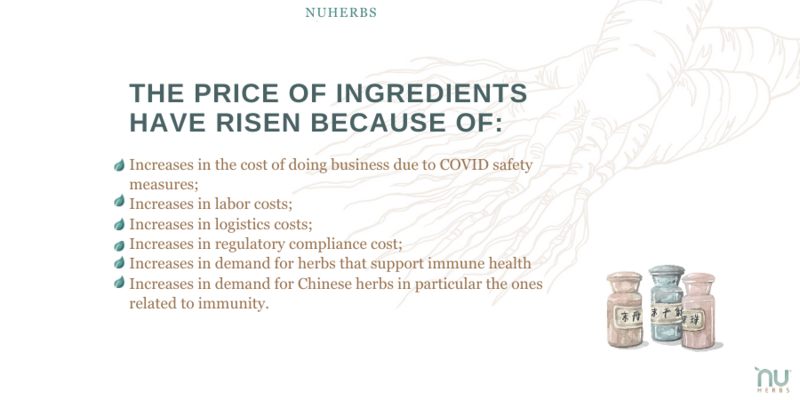 U.S. and Chinese Governments Require More QA
As both the Chinese and American governments require food and supplement companies to do more to ensure safety and quality, the compliance costs have increased as well. The biggest increase is the Food Safety Modernization Act (FSMA) compliance, followed by changes required by the Chinese Pharmacopeia.
These costs are especially sharp for any herbs that aren't popular because there is less material to amortize the cost amongst. It's not a problem for popular herbs like organic astragalus versus something like our organic honeysuckle which we only grow two to three tons a year. And the unit economics, it gets even worse for even less widely used herbs.

Transportations & Logistics Face Bottlenecks
The logistical cost from inland transportation (think LTL and trucks) to the cost of sea freight to air freight has been increasing strongly due to reduced supply. In fact, I'm seeing multiple companies already booking shipping well into the middle of February. To give you an idea of how drastically international shipping costs have increased just take a look at container costs. A 40-foot container leaving from Shanghai today costs $4200 versus $2800 at roughly the same time last year.
You also have to factor in the weakening of the Chinese yuan (RMB). Last December, the Chinese dollar was at 7 RMB to a dollar and now it's at 6.5 RMB. Once you factor in tariffs (which stand at 25%) on top of the weakened RMB, the overall depreciation averages out to about 9%.
When You Add It All Up, Ingredients Are Costing More
All these factors added together have caused a price increase for most herbs, however, the good news is that the increases so far are in the range of 10-15%. Further good news is that most herbs are readily available. As the economy stabilizes and countries worldwide make more advancements in COVID, I believe we can expect to see a stabilization and slight decrease in supply chain costs across the board. In any case, please feel free to reach out to us with any questions you may have as it relates to ingredients, manufacturing, or production.
Sincerely,
Wilson Lau
Vice President, Nuherbs Co.
---
To learn more about how Nuherbs can help you with your supply chain, send our team an email or you can sign up for a wholesale account to explore our entire catalog.
You can also connect with and follow Wilson on LinkedIn for the latest on supply chain management and product development.